We have partnered with vendors which offer best of breed products to assist your organisation in making the most of your valuable data assets. The following provides some details of these vendors and the innovative products they offer. Our highly skilled consultants can help you implement these solutions to ensure you gain maximum benefit from your investment.
Balanced Insight is revolutionizing how business users and IT collaborate to generate greater business value from information delivery. Balanced Insight Consensus is optimized for Agile development — enabling business-driven requirements gathering, rapid prototyping, clear and consistent data definitions, and component reuse across the major business intelligence platforms. The end result – flexible, intuitive BI applications that meet user expectations and create a more nimble and adaptable BI environment.
Balanced Insight ConsensusNow provides an enterprise business glossary out of the box. ConsensusNow allows you to manage your key business terminology and make it instantly accessible in reports, dashboards and documents, so that everyone's on the same page, all the time. As a unified platform, all users, data stewards, developers, and subject matter experts finally have the ability to define and access key terms affecting your businesses metrics and reporting semantics.
Kognitio is a pioneer in high-performance, scalable big data analytics for data science & business intelligence. Kognitio is redefining the analytical BI market as the industry's fastest and most affordable data warehousing solution. Kognitio empowers large-scale complex analytics at breakthrough speed, supporting the next generation of BI and large-scale analytical applications, including on-demand Data Warehousing, while running on low-cost, industry-standard servers.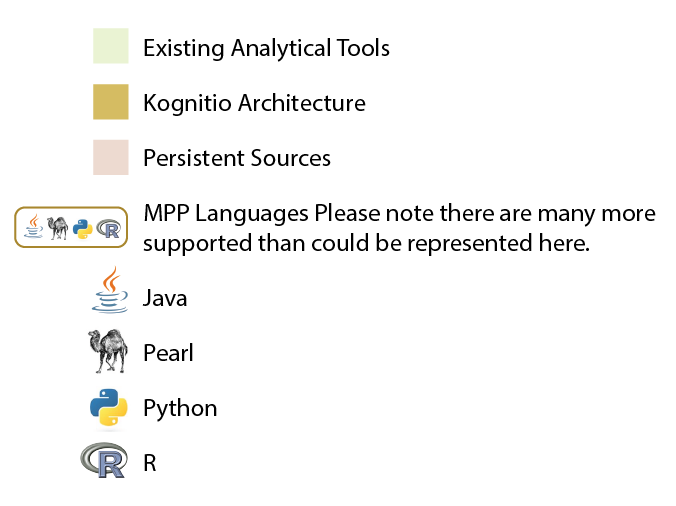 Kognitio allows you to gain better business insight with the following advantages:
Accelerates Advanced Analytics and Data Science
Kognitio's focus is shifting from the mature BI and Data Warehouse space to where the market is moving – Advanced Analytics and Data Science
Kognitio enables complex analytics on terabytes of data in seconds by using scalable in-memory, Massively Parallel Processing technology.
Kognitio database complements existing BI and data investments with a platform for advanced analytics. It delivers full MPP execution of any code or script such as R, Python, Java, WPS libraries and other languages of your choice, so that the whole workload is executed in parallel.
Kognitio drives large scale predictive analytics
No need to build OLAP Cubes for BI platforms
Kognitio supports the industry-standard interface SQL (ODBC and JDBC) as well as MDX for OLAP queries
Kognitio provides native access to Microsoft Excel using MDX (by building virtual in-memory cubes) making available multiple terabytes of information in the business user's BI platform of choice
Kognitio allows you to analyse Big Data in Excel with real-time updating of the underlying data – no need for pre-built aggregates, no physical cubes, no practical size limits, no waiting for cube builds
Massively Parallel In-Memory Code Execution
Kognitio provides Massively Parallel In-Memory Code Execution. The ability to run NoSQL (actually, any standard binary/programming language) in MPP fashion across Linux, managed within the Kognitio SQL structure. It allows you to streamline complex analytical processes and data science tasks via external scripting
Through intelligent usage of RAM,disk and external tables, Kognitio offers unprecedented speeds to access and query complex data
Hadoop Integration
Kognitio delivers tight integration with Hadoop for seamless high-performance advanced analytics that make Big Data more consumable for the enterprises
Ease of use – explore in place, pull into RAM and then analyse your data with low latency complex queries with fast response times
Kognitio can pass SQL queries, reduced into machine code, wrapped in Map/Reduce jobs directly into the Hadoop cluster. This enables the sophisticated filtering and projection algorithms developed by Kognitio to operate within the Hadoop cluster.
Kognitio provides dynamic access to Hadoop Distributed File System (HDFS) data via external tables that can be "pinned" into memory
Only data of interest is loaded into memory via high throughput parallel load streams
Kognitio allows organisations to dynamically orchestrate between the conventional databases that store data and other storage paradigms (ie, key value store, NoSQL databases, etc.)
Kognitio can be licensed on a "right-size-at-the-right-time" model
Runs on any industry standard hardware, there is no need to invest in a proprietary hardware solution
As data volumes increase, query performance remains constant from one to thousands of nodes. For example, querying 5TB on a 10-node system will take the same time as querying 50TB on a 100-node system. Also, Kognitio can be reconfigured in size to help respond to the requirements of a data analytics project
Kognitio can be licensed on a "right-size-at-the-right-time" model for cost-effective data analytics that meet the demands of a changing project, or a fast moving business
Kognitio Cloud gives you the ability to access and analyse detailed business data without the need to design, build, deploy and run your own business intelligence system
Kognitio provides several flexible deployment options; Software only, Appliance, Cloud, Fully Managed Service or Free-to-Use as a local install for up to 128GB of in-memory power
Want to learn more about Kogitio Analytical Platform free download
MDM has been an innovative Business Intelligence service provider since formation in 1997. Since then, MDM has continued to gain in reputation by delivering high value reporting and planning systems. They have since introduced other software products to their range to service the ever increasing challenges that business faces today.